Full Conference
Full Conference 1-Day
Basic Conference
Exhibits Plus
Exhibits Only
Electronic Theater
Reception Ticket
Exhibitor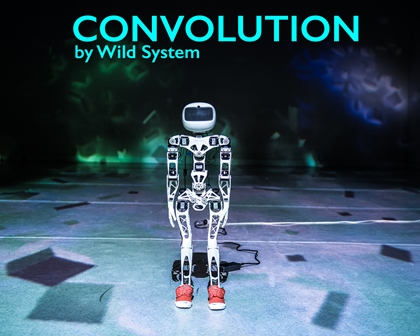 Title: Convolution by Wild System
Artists Statement: A child-sized robot sits immersed in a full-room projection of an evolving audiovisual virtual environment. The robot 'talks' to the virtual environment, telling of its impressions and what it would like to see and hear. People come and go, talking with the robot about the virtual environment, and showing it pictures on their phones. The robot learns these impressions and talks of them to the virtual environment, which evolves in response.
Convolution by Wild System is a unique artwork where a robot collaborates with humans to create an ever-evolving immersive audiovisual virtual environment.
The resulting artwork dissolves the boundaries between computational and physical phenomena, displaying an aesthetic that is a real hybrid of the physical and the digital, of human and machine learning, of natural and artificial intelligence, and of real and synthetic evolution. It is an artwork and aesthetic that emerges from an interactive collaboration between robot, people and virtual environment.
Artist(s):
John McCormick. Deakin University, Australia.
Adam Nash, RMIT University, Australia.