Full Conference
Full Conference 1-Day
Date/Time: 5 December 2016, 02:15pm - 06:00pm
Venue: Sicily 2401, Level 1
Location: The Venetian Macao

---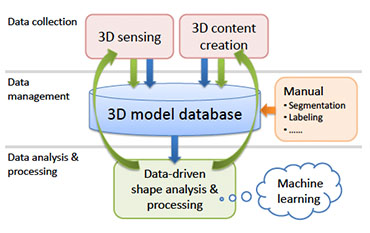 Course: Data-Driven Shape Analysis and Processing
Level: Intermediate
Prerequisites: Some basic knowledge of machine learning and geometry processing is a plus, but not required.
Presentation Language: English
Intended Audience: The course is intended for junior graduate students who are interested in geometry analysis and processing. We will give an overview of state-of-the art methods and cover basic toolsets.
Organizer: Dr. Kai Xu, Assistant Professor, National University of Defense Technology (NUDT).
Dr. Vladimir G. Kim, Research Scientist, Adobe Research
Dr. Qixing Huang, Assistant Professor, UT Austin
Dr. Evangelos Kalogerakis, Assistant Professor, University of Massachusetts Amherst
Dr. Niloy Mitra, Professor, University College London

Speaker(s):
Vladimir Kim, Adobe Systems Inc.
Kai Xu, NUDT SIAT
Qixing Huang, Toyota Technological Institute at Chicago
Evangelos Kalogerakis, University of Massachusetts Amherst
Niloy Mitra, UCL

Summary: Data-driven methods serve an increasingly important role in dis- covering geometric, structural, and semantic relationships between shapes. We provide an overview of the main concepts and components of these methods, as well as discuss their application to classification, segmentation, matching, reconstruction, modeling and exploration, as well as scene analysis and synthesis. We finally discuss ideas that can inspire future research in data-driven shape analysis and processing.