Full Conference
Full Conference 1-Day
Basic Conference
Exhibitor
Date/Time: 8 December 2016, 11:00am - 12:45pm
Venue: Ballroom H, Level 3
Location: The Venetian Macao

---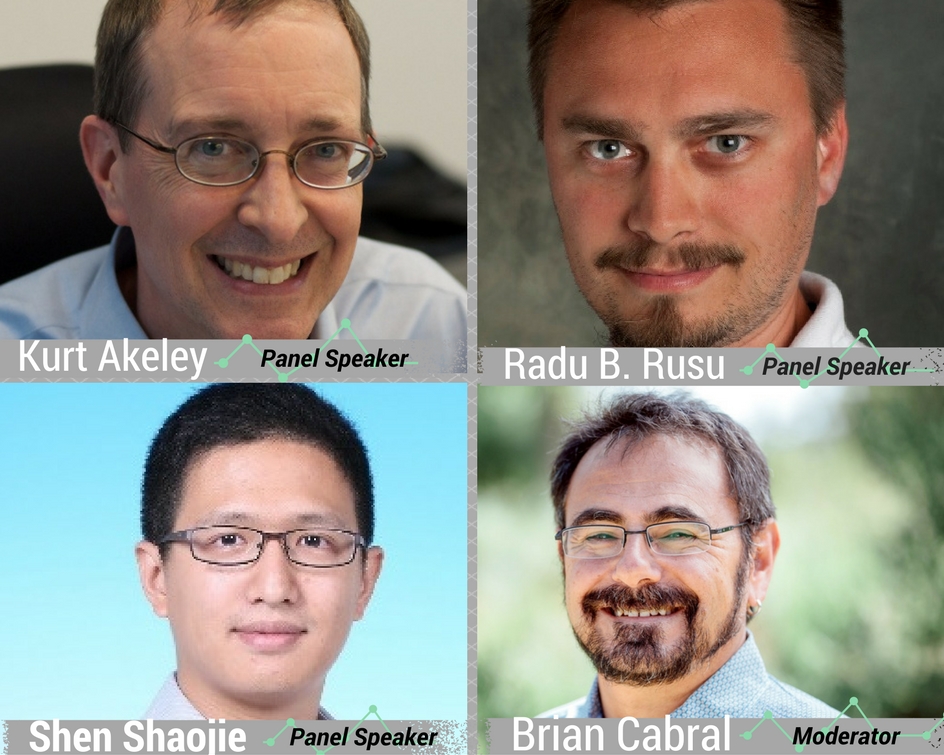 Title: The Future of Imaging
Panellists:
Kurt Akeley, CTO, Lytro Inc Radu B. Rusu, CEO and Co-Founder of Fyusion, Inc Shen Shaojie, Chief Roboticist, DJI Moderator: Brian Cabral, Director of Engineering at Facebook
Summary: Computational Photography and Artificial Intelligence are not just massively redefining human visual experiences, the way people create contents, but also equipping robots everywhere with vision and cognitive intelligence. We are honored to have visionary executive scientists from revolutionary firms: Lytro, Fyuse and DJI, who have been successfully building critical step-stones for the global society, and keep leading the revolutions for tomorrow. In this panel they will share their past and current adventures as well as their visions for the future of imaging.
Presentation Language: English
Bio:
Kurt Akeley, CTO, Lytro Inc Kurt Akeley is the CTO at Lytro, where he guides system and software development for Lytro's virtual reality product line. A pioneer in the field of computer graphics and a co-founder of Silicon Graphics (later known as SGI), Kurt led the development of innovative products such as RealityEngine and the industry-standard OpenGL graphics system. After leaving SGI in 2001, Kurt completed his long-deferred PhD work at Stanford, working in the areas of stereo 3-D display and human perception. He then joined Microsoft Research, where he was assistant managing director of Microsoft's research lab in Beijing, and, after returning to the US in 2007, developed a prototype light-field display with resolution sufficient to stimulate focus cues in human viewers. Kurt earned a BEE degree from the University of Delaware in 1980, an MSEE degree from Stanford in 1982, and a PhD in electrical engineering from Stanford in 2004. He is a member of the National Academy of Engineering, a fellow of the ACM, and in 1995 was awarded ACM's SIGGRAPH computer graphics achievement award. He is a named inventor on nineteen patents.
Radu B. Rusu, CEO and Co-Founder of Fyusion, Inc Radu B. Rusu is the CEO and Co-Founder of Fyusion, Inc, President of Open Perception, Inc, and a world renowned expert in 3D data processing with over 10 years of experience in the field. Before Fyusion, Radu was a Visiting Lecturer at Stanford University and a Research Scientist at Willow Garage where he led the 3D Computer Vision efforts that created the Point Cloud Library (PCL) project. Radu received his Ph.D. in Computer Science from the Technische Universitaet Muenchen (TUM), Germany in 2009 with summa cum laude. During his Ph.D., Radu was affiliated with the CoTeSys (Cognition for Technical Systems) excellence cluster at TUM, and the AIC (Artificial Intelligence Center) at SRI (Stanford Research Institute) as an International Fellow Researcher working on 3D semantic mapping techniques for mobile robots. Over the past years, Radu has been on the board of many workshops and scientific events in the field, held at prestigious conferences such as: RSS, ICRA, IROS, ECCV, ICCV, AAAI, CVPR, 3DIMPVT, etc. He has co-/authored over 70 peer-reviewed scientific publications, including 2 books, and three best paper awards and nominations (ICAR 2009, RSS 2011, and EURON George Giralt PhD award). Radu is a senior IEEE member, and the recipient of the IEEE RAS Early Career Award 2013. Radu also won the Open Source Software (OSS) World Challenge in 2011 with PCL.
Shen Shaojie, Chief Roboticist, DJI Shaojie Shen is Chief Roboticist at DJI. His research interests lie in the broad area of aerial robotics, with focus on machine perception, sensor fusion, and motion planning. He oversees the development of intelligent robotic technologies at DJI, which turn into the first vision-equipped commercial drone, the DJI Phantom 4. He received his Ph.D degree from the GRASP Lab at the University of Pennsylvania in 2014.
Brian Cabral, Director of Engineering at Facebook Brian Cabral is Director of engineering at Facebook specializing in computational photography, computer vision, and computer graphics. He is the holder of numerous patents (filed and issued) and lead the Surround 360 VR camera team. He has published a number of diverse papers in the area of computer graphics and imaging including the pioneering Line Integral Convolution algorithm.