SUBMISSION DEADLINE: 30 JULY 2016, 23:59 UTC/GMT
Note: The Art Gallery Conference Program is held at a separate location: Macau University of Science and Technology. The University Campus is open for all SIGGRAPH Asia attendees.
Art Gallery Juried Exhibition
Mediated Aesthetics @ SIGGRAPH Asia 2016
The SIGGRAPH Asia 2016 Mediated Aesthetics exhibition will highlight innovative Digital Art projects prioritizing the expression of an alternative aesthetic, while employing the rich variety of techniques available to designers and artists who use computer mediation as a part of their creative palette.
Focusing on projects using hybrid approaches between physical and digital, between natural and artificial, and between real and synthetic, the exhibition will include the variety of innovative work by artists who merge computation with physical object, while pushing the boundaries of traditional artistic disciplines.
Mediated Aesthetics will present a combination of new media technologies, including algorithms, sensors, networking, augmented reality, biotechnology, networking and other technologies. The key is the aesthetic investigation.
Partnership with
ACM SIGGRAPH Digital Arts Community (DAC)
MUST Humanities and Arts
Art Gallery Chair
Scottie Chih-Chieh Huang
Chung Hua University
Taiwan

Art Gallery Co-Chair
Cynthia Beth Rubin
ACM SIGGRAPH Digital Arts Community
Independent artist
USA
Sponsored By:

Supported By: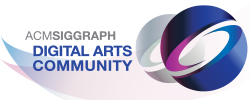 How To Submit
Submissions are due on 30 July 2016, 23:59 UTC/GMT.
Log in to the Submittable.
Please review and carefully follow the submission requirements below. Incomplete or wrongly completed submissions will not be considered. For each submission, please complete the following requirements:
Information about Work
Basic information: Title, Description of Work, Artists Name, Affiliation of Artist.
For Art Gallery submission, publishable (with proofread edited English) artist statement (up to 300 words) and technical description (100 - 200 words) are required.
Technical Requirements
Specifications of your work, including size, weight, light and sound emission; lighting and sound requirements; spatial, network, and electrical needs; etc.
The gallery is equipped with track lighting, white tables, folding screens and room dividers, and pedestals. Specify what you need.
Submission Files
Main image: One representative image in maximum quality JPG format suitable for use in print and promotional materials (1920 pixels in largest dimension).
Additional Detail Image: In JPG
Web image: In high quality JPG or PNG format, 600X450 pixels or 800X600 pixels for website publication.
Floor plan: Submit detailed layout of space needed for installation, including power requirements, exact dimensions of floor space and height, lighting, audio, power sources, furniture such as tables, etc. See Sample Floor Plan.
Addition Visual documentations: one PDF visual document and one video link can be provided. Video documentation is expected for installation, kinetic, or interactive works, up to three minutes in length.
Series of Still images: Submit up to 4 still images. The gallery space is best suited to large images that can be hung as banners using a wall hanging system, or smaller works attached to a folding screen.
Multiple images could be printed together, or up to two large images. See gallery photos.
Manage Contributors
List of project collaborators (if any).
Full Collaborators
Contributors
Please note: All entries must be uploaded to the online submission system. No discs or drives will be accepted.
Evaluation
Selections will be made by a panel of digital art experts according to the following criteria:
Overall impact of the work
Quality of accompanying artist statement
Relevance to the Call for Submissions
Significant increasingly overlapped areas of art and technology
Interested in dialogue in exhibition
Upon Acceptance
Detailed information and instructions as well as deadlines will be sent to submitters along with the acceptance letter.
Presenter and Contributor Recognition
You can apply for a 100% discount for a Basic Conference Pass. One presenter per accepted submission. An email with a discount code will be sent to your email.
Publication
All work selected for the SIGGRAPH Asia 2016 Art Gallery will also be documented in the SIGGRAPH 2016 website.
Shipping
Accepted artists are responsible for bringing or shipping their work to SIGGRAPH Asia 2016, Macau. Artists are also responsible for return shipping after the conference. Preference will be given to artists who are able to hand-carry their work to the exhibition.
Installation
All artists should plan to arrive before the Conference begins to deliver work and to assist with installation. We will work closely with you to ensure proper and effective installation of your work. You must send exhibition-ready work. Prints and banners must be ready to hang, with no additional framing required. Three-dimensional works must be assembled and ready for display. Installation works must be complete with detailed set-up instructions and diagrams, however we expect that complex works will require the participation of the artists to install.
Other Details
We expect exhibiting artists to attend SIGGRAPH Asia 2016 in Macau. Travel costs are at your own expense. One basic registration will be awarded per accepted work.
Note: If your work arrives at the Art Gallery venue, and it is not as depicted in your submission or is not ready for installation, we reserve the right to exclude it from the exhibition.
FAQs

Artwork
Submission Process
Upon Acceptance
At The Conference


Artwork
What type of artwork is acceptable for submission?
2D and 3D artwork, such as digital prints, paintings, and sculptures
Time-based works: film, video, animation, game, and mixed media performances
Interactive, electronically-mediated artworks using music, sound, digital audio, interactive instruments
Multimedia installations, social engagement art, game art, mobile and handheld device art
Web-based art, responsive media, robotics, touch-screens, augmented reality (AR) installations, facial and sound recognition, and any newly invented responsive media
Artworks use digital communities: including alternative networks, mobile, and locative media
Bio-art, transgenic art, and wearable art
Works of design and architecture
Space art, environmental art, landscape
Collaborative projects between different fields of art, science and technology
Can I submit the same piece to multiple programs?
No. Submitters are urged to consider the range of programs you feel is most appropriate at SIGGRAPH Asia 2016. Animators should submit to the Animation Festival; VR artists should submit to the VR Showcase; Works highlighting the development of new techniques still in development (and not yet used by artists) should submit to Emerging Technologies.
If I am interested in submitting an electronically mediated performance, what sort of limitations should I be aware of?
The SIGGRAPH Asia 2016 Art Gallery welcomes proposals for all kinds of electronically mediated performances. However, we will not be able to present all deserving projects due to limitations in availability of suitable venues.
Your performance should be no longer than one hour in length, and you should be able to repeat the performance during the conference.
You will be responsible for all set-up and tear-down (we will provide volunteers to help). You are also responsible for supplying your own equipment for display.
Can I submit a video documenting my work?
For performances, installations, and any interactive art that changes over time, you should submit a digital video that shows the evolution of the work, in addition to still images for documentation.
Is digital video art accepted?
Yes, if there is a significant use of creative digital techniques to alter the video, if the piece incorporates computer animation, or if it expands on aesthetic issues described in the Art Gallery Call for Participation.
Is SIGGRAPH Asia accepting sculptures?
Yes, sculptures that are interactive, robotic, electronic, or part of an installation are encouraged. Works that utilize rapid prototyping, that make use of embedded systems, or combine traditional media with digital systems are also welcome.

Submission Process
Where do I send my submission materials?
All work must be submitted via Submittable. Do not send printed proposals or slides in physical form through the mail.
How many pieces can I submit to the SIGGRAPH Asia Art Gallery?
There is no limit. Submit as many as you like. But you must complete and submit a separate submission form for each work, unless your work is a series.
Will you accept my work without an artist's statement?
No. All submissions must include a 200-300 word publishable (with proofread edited English) artist's statement. Your statement must address the conceptual aspects of the work. You must also include a 100-200 word publishable technical statement.
Can I submit a URL rather than images of my work?
No. You must submit images of your work so that we can publish an image of your work. You may submit a URL so that we can get additional information about your work if needed.

Upon Acceptance
Will SIGGRAPH Asia pay for shipping and framing?
No, you are responsible for framing (NO glass, please), crating, shipping, and in-transit insurance. You must pack and ship your artwork professionally and safely. Packing peanuts are NOT acceptable. Work that arrives at SIGGRAPH Asia 2016 in substandard condition may be pulled from the show.
I have an over-sized work that I just want push-pinned to the wall. Is this acceptable?
No. Your work must be professionally framed or prepared to hang as a banner using the hanging system in the photo. We reserve the right to pull works that are not prepared to our specifications.
Can I display a visual postcard with my work on it in the art gallery?
Yes. Each artist will be encouraged to bring 4.25-cm x 6-cm color postcards with an image of the work on the front and information about the piece on the back. These will be displayed and available for attendees (so bring plenty). No commercial promotional materials will be allowed.
Will SIGGRAPH Asia pay for any duty or taxes on international shipments?
No. You are responsible for all import and export expenses. We encourage you to accompany your work, and to arrange for necessary forms to show that you plan to return it to the country in which it was produced.
Does SIGGRAPH Asia have funding to ship my equipment to the conference?
No. Many artists who have participated in previous SIGGRAPH and SIGGRAPH Asia Art Galleries have received funding from local arts organizations or national councils. We will be happy to provide a letter of reference should you require it.

At The Conference
If I show my work at SIGGRAPH Asia, will I have to watch my equipment?
Yes. You will need to have enough people to watch your installation or art piece if it requires monitoring.
Do I need to install my own work?
We will work closely with you to ensure proper and effective installation of your work. Exhibition installation will be accomplished by professionals, although complex works will need your individual participation, so you should plan to arrive early to assist with the installation.
Will SIGGRAPH Asia pay for my accommodations and travel expenses?
No. You are responsible for your own expenses.
Timeline
All deadlines are 23:59 UTC/GMT.
30 July 2016
Submission Deadline
July – August 2016
Jury Review
1 September 2016
Acceptance Notification
1 October 2016
Final Materials Due
September to November 2016
Shipping, insurance, and installation arrangements made with accepted submissions
2 – 5 December 2015
Installation days (weekend access to be confirmed). Artists are expected to be present
5 – 8 December 2015
SIGGRAPH Asia 2016
*Publications content will be available in the ACM Digital Library one week prior to the conference.
end faq