Welcome to Macao!
Macao is an autonomous region on the south coast of China, across the Pearl River Delta from Hong Kong. A Portuguese territory until 1999, it reflects a mix of cultural influences. Its giant casinos and malls on the Cotai Strip, which joins the islands of Taipa and Coloane, have earned it the nickname, "Las Vegas of Asia." One of its more striking landmarks is 338m-high Macau Tower, with sweeping city views.
Here are some travel tips and essentials to enhance your stay in Macao.
Currency:
Macao does have its own currency called the Macanese Patacas (MOP), but it is really not required to change to MOP currency as the more widely used (and preferred) currency is Hong Kong Dollars (HKD). You can use HKD for just about anything—hotels, meals, taxis, ferry tickets, shops, attractions etc.
The exchange rate between MOP and HKD is almost 1:1, hence there is no significant difference between the two. Therefore, these two currencies are often used interchangeably—e.g. if you pay in HKD, you may get back your change in MOP. If you do not want to get MOP currency, you can request for HKD during payment. To minimize getting MOP, try not to use big currencies (e.g. 1000 HKD note) for smaller local shops as they may not have enough HKD change for you. Click here to check out the estimated currency exchange rate.
Spoken Languages:
Cantonese, Mandarin, Portuguese, English
What to do in Macao?
If you have yet to plan your travel itinerary in Macao, consider booking one of the tour options provided by SIGGRAPH Asia's official travel agent here. Representatives from the travel agent will also be available on-site to assist you on your travel enquiries / bookings. They will be located at
Level 3, Foyer of The Venetian Macao Ballroom, Booth L3-01 (SIGGRAPH Village), 09:00 – 18:00, on all days of the event.
Visit the nearest Village: Taipa Village
A little village next to the glitz and glamour of the casinos, an old world charm worth visiting. It is a 20-minute walk from The Venetian Macao or you could hop onto a taxi for a faster access.
Handy Travel Maps
- Macao Peninsula (The most northern part of Macao, where the Macao Science Center is located)
- Taipa, Cotai & Coloane (Cotai is where The Venetian Macao, and the Macau University of Science and Technology (MUST) are located)
Electricity & Power Socket in Macao
When visiting Macau from another region ensure that your device can accept a 220 volt supply.
Voltage: 220 – 240 Volts (U.S./Canada are 110-120 Volts)
Primary socket types: British BS-1363, Indian
110 – 120V electronic: Please use a plug adapter + step-down transformer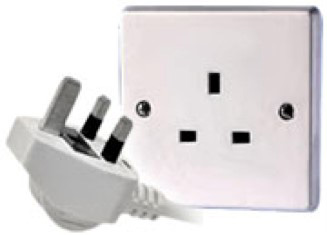 Insurance and Security
We would like to remind all participants that you should not leave your valuables and important documents unattended throughout the conference period.
Weather Information
Macao weather in December is cool. The average daily high temperature is 20 °C (68 °F), and the average low temperature is 14 °C (67 °F). Winter begins in mid-December or late December when the temperatures drop and dry and clear weather sets in.
For more travel information, please visit the Macao Government Tourism Office.