SUBMISSION DEADLINE: 15 AUGUST 2016, 23:59 UTC/GMT
Whether you are coming up with what-if ideas, developing new techniques, or using existing ones in novel ways, your submission is welcome. We encourage submissions from animators, developers, educators, students, and researchers from academia and industry. Typical examples include:
The submission deadline is 15 August 2016, 23:59 UTC/GMT. Please return to this page often for further submission details and review the FAQs before contacting us. If your question is not already answered there, please contact us.
Posters Chair
Johannes Kopf
Facebook
USA
Posters Co-Chair
Chi-Wing Fu, Philip
The Chinese University of Hong Kong
Hong Kong
How To Submit
Submissions are due on 15 August 2016, 23:59 UTC/GMT.
Please review and carefully follow the submission requirements below. Incomplete or wrongly completed submissions will not be considered.
We strongly encourage starting the submission form well before the deadline. Also, please do not wait until the last minute to upload your files.
For more information about uploading files for your submission, please see Uploading Files.
Submission
Your submission must include the following materials and information.
Sorting Topic
The Posters Chair will use the Sorting Topic to assign your submission to reviewers who are best able to assess your work. Please be as accurate as possible when specifying it.
English Review Service
If English is not your first language; you may use the English Review Service to help with the text of submissions. Please note that this takes time, so your submission should be sent to the English Review Service well before the final deadline.
Educator's Resources Submission option
Those submitting content to a SIGGRAPH conference have the option of donating materials of educational value to ACM SIGGRAPH online resources for the benefit of the education community. Learn more.
For more information about uploading files for your submission, please see Uploading Files.
For additional submission information, please see the FAQs.
Evaluation
All submissions will be reviewed by a jury of academic and industry professionals in computer graphics, vision, visualization, CAD, animation, games, HCI, interactive techniques, art, and related fields. The Posters Committee is responsible for conducting the jury process in order to set up a high-quality program, with attractive posters sessions.
Notice To Contributors
All contributors to SIGGRAPH Asia Annual Conferences are now required to use ACM's rights management system to grant rights to publish accepted content rather than through the online submission system. Essentially, submission tracking, jury review, and acceptance remain the same, but now the rights management is through ACM, the parent organization of SIGGRAPH Asia.
You will be asked to complete an ACM rights management form, which includes permission to record and distribute the audio and video of your recorded presentation through official channels of ACM/SIGGRAPH Asia. For most content types, this will be a Permission and Release form, which allows authors to retain copyright.
More Information on these options (the FAQ is particularly useful)
Samples of the ACM Copyright Form and the ACM Publishing License
As a contributor to an ACM-sponsored event, the following expectations apply to you, should your content be accepted for presentation:
Once your contribution is accepted, you will receive a link via email to the appropriate form for your contribution.
Upon Acceptance
If your work is accepted as a poster, you will be required to prepare the final print-ready poster file following the specifications in the acceptance notification. Please note: The schedule to provide your final material after receiving the acceptance notification is very tight. We reserve the right to reject late submission of print-ready files. Please plan your personal schedule accordingly.
During the poster presentation session, the poster must be staffed at all times by pre-scheduled times, and you are encouraged to bring a portable computer to demo your work. The computer should be well charged, because electrical power may not be available on-site. Do not leave your computer and belongings unattended during the pre-scheduled poster presentation periods or other equipment unattended with the poster. Posters are displayed in unsecured areas.
For instructions about preparation and delivery of your final content for publications, see the poster format examples. Please carefully follow the instructions in the acceptance letter.
You will be able to update your basic submission information and any final materials so that it can be included in the conference program and website. This information needs to be finalized within two weeks after receipt of acceptance notifications. Please be prepared to deliver your final versions of your information and work on or before these dates.
Presenter and Contributor Recognition
Presenters / Contributors of each accepted submission have to register for at least one conference pass. Please visit our registration page to view the various registration categories for each program.
Please see the Recognition Policy for a summary of what you will receive if your work and/or proposal are accepted by SIGGRAPH Asia.
Presenters are expected to cover their own travel costs, which are not covered by SIGGRAPH Asia. You can apply for a 25% discount per accepted submission via the submission system. One contributor per accepted poster.
Publication
All work selected for the SIGGRAPH Asia 2016 Posters will be documented in the SIGGRAPH 2016 website and ACM Digital Library.
FAQs
Poster Submission
Poster Creation
Poster Presentation
Poster Submission
How do I decide whether to submit my work as a paper, a technical brief, or a poster?
The Technical Papers program is the most competitive of these three. Technical Papers give you a chance to work out your ideas at greater length and describe them in a citable archive. The Technical Briefs program provides a dynamic forum for new and thought-provoking ideas, techniques, and applications in graphics and especially at the intersections between graphics and other relevant research fields. It is ideal for presenting innovative ideas that are well polished, high-impact practical contributions that build on existing research, and cool "tricks" that help users solve challenging problems.
Should I submit a digital version of the actual poster for jury review?
No, this is not necessary. Poster submissions are evaluated based on their abstracts, supporting material, and research value. If you would like to provide a digital version of your poster, you may do so as a supplementary image.
Can I include a supplementary video with my poster submission?
Yes! If your submission has an interactive, animation, or simulation component, we strongly encourage you to submit a video demonstrating your work in action, as it may be very difficult to evaluate your work without this. Videos can be included as part of the poster presentation session.
The SIGGRAPH Asia English Review Service failed our schedule, so it is SIGGRAPH Asia's fault that our proposal is late. Can I have an extension?
No. The English Review Service makes no guarantee for service turn-around. It is also administered separately from the conference program. Please schedule your work appropriately. For the best chance of having your submission reviewed by the English Review Service, please make sure it is submitted and marked "complete" in the submission system at least 14 days before your program's submission deadline.
What does a 1-2 pages abstract submission look like? What does a poster look like?
Here are two examples of good posters and abstracts:
Example 1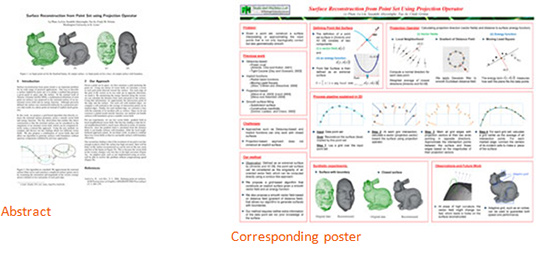 Poster Formatting Templates
Poster authors should prepare their documents according to the ACM SIGGRAPH formatting instructions. Remember: the jury will review the abstract, but the poster is what you will display at the conference.
Poster Creation
Will you print my submission or should I create the poster myself?
The organizers will print the poster as well as display it on your behalf.
What are the maximum dimensions of poster prints?
Individual posters will be printed in A0 size in vertical only. The size should be 841mm x 1189mm, bleed of 3mm aside to the above. Please provide a final high-resolution PDF file suitable for print with minimum 300dpi. You will receive detailed instructions on how to prepare your final print-ready file together with your acceptance notification.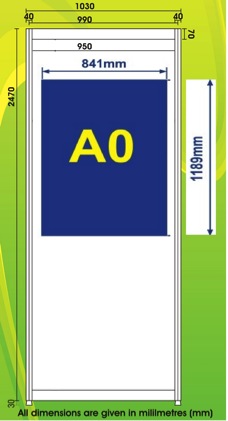 Dimensions
A0 measures 1189 x 841 millimetres or 46.81 x 33.11 inches. In PostScript, its dimensions are rounded off to 3370 x 2384 points. Part of the ISO 216 standard A0 is part of a set or range of page sizes, called the ISO A or ISO 216 standard. This international standard is based on the German DIN 476 standard from 1922. A0 is actually often referred to as DIN A0. The Japanese have adopted the same range of paper sizes in their JIS P 0138-61 standard. The American alternative to A0 is the ANSI E-size, which is part of the ANSI/ASME Y14.1 standard. It measures 864 × 1118 mm or 34 × 44".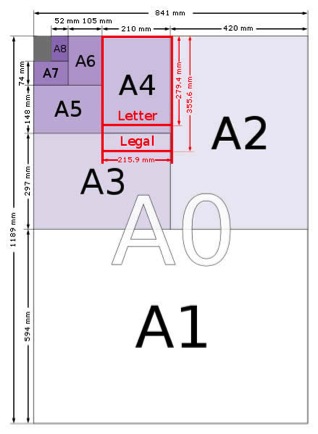 [A Series Paper Sizes Chart. Image courtesy of Office 365.]
Poster Presentation
If a poster has multiple authors, do we all need to stand by the poster during our session?
During the session, the poster must be staffed at all times by at least one person. All of you do not need to stand by the poster throughout the session. In fact, you may wish to "tag team", taking turns at your own poster and seeing the other posters in the session.
Presentation timings will be from 13:00 – 14:00 on the following days:
- Tuesday, 06 December 2016
- Wednesday, 07 December 2016
Two of my poster submissions were accepted. Which one should I present?
If at all possible, both posters should have a presenter. If your submissions have co-authors and they are attending the conference, please ask them to help present. If you are the only author attending the conference, you can present a different poster at each session. You may wish to leave a note on each poster indicating the session at which you will present it.
Should I bring the poster with me? Or can I ship it to the convention center?
SIGGRAPH Asia does not accept posters shipped to the convention center. The organizers will print the poster as well as display it on your behalf.
I would like to give a demo during my poster presentation. Is this possible?
Poster presenters are encouraged to demo their work during the poster sessions.
How will my poster be presented at the conference?
Example of how your posters will be displayed during the conference: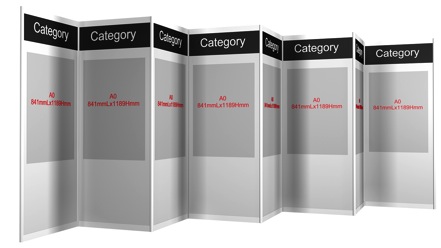 Where in the convention center will my poster be located?
You will receive detailed information regarding the exact location of your poster at the convention center.
Will tables be provided for each poster?
No, there will not be any tables due to space constraints.
My poster submission has been accepted, and I would like to give a demo of my work. Is this possible?
Poster submitters are encouraged to demo their work during the pre-scheduled Poster Sessions using their own laptop equipment, in front of their Posters.
Will I have an internet connection for my laptop?
Wireless internet access will be available throughout the convention center.
Will AC power be available for my laptop or other devices?
We cannot promise that AC power outlets will be available for everyone. Charge your batteries before the session.
Can I leave my laptop or other equipment there before or after the session?
No! The poster sessions are in unsecured open areas. Take your laptop and all your gear with you.
I have travel conflicts, and I cannot attend the conference. Can I still submit work to the conference?
Yes, as long as one contributor per accepted poster is registered with a Full Conference registration and the poster can be presented by a representative of the author. If it is a collaborative submission, it is important that at least one of the authors attends the conference and presents the work. We expect poster authors to be present at the poster sessions during the pre-scheduled time periods.
Timeline
All deadlines are 23:59 UTC/GMT.
15 August 2016
Submission deadline
15 August - 26 September 2016
Jury reviews
3 October 2016
Acceptance Notification
17 October 2016
Final Materials Submission
5 - 8 November 2016
SIGGRAPH Asia 2016
* Publications content will be available in the ACM Digital Library one week prior to the conference.
end faq